Give each of your orders their own status — and send an automated email when those statuses change.
That's why you're here, right?
For a seller to thrive online, they need the trust of the consumer, they need clear and efficient processes and they need top quality customer communication.
Stages provides exactly that. It's a handy order management application that helps you track the progress of your orders through your manufacturing, assembly and fulfillment process by assigning custom statuses or "stages" to each order.
But not only does Stages help you track your orders, it helps your customers track their orders too by sending custom, automated email messages as their order's status changes.
This is particularly effective for businesses that sell bespoke, custom-made or assembled items, and that want to keep their customers in the loop after they've placed an order.
A happy customer is a satisfied customer, and a satisfied customer is a returning customer; turn all your customers into returning customers with Stages.
How it works.
Stages is an app that enables customizable labeling for each stage in the production and ordering processes. Here's how it works:
When you start using Stages, you'll create your own statuses (or "stages") that match your company's unique assembly and fulfillment process. For example, if you run a T-shirt printing company, you might label your stages "Order Received", "Proofing", "Screen Printing", "Drying", and finally "Shipped".
Next, you'll invite your team and then create your own automated email messages. You decide exactly which event should trigger an email, such as when an order goes from "Proofing" to "Screen Printing", or from "Drying" to "Shipped". You can even decide who an email will be sent to: yourself, your team or your customer.
The email messages you create are built in a way that enables you to use dynamic details about your customer, their order and their shipping address, all without knowing those things ahead of time. That means you only need to write your emails once, and Stages will fill in the details when they're sent.
Finally, as you or your team build and ship your orders throughout the day, you'll use the Stages dashboard to quickly push an order from one stage to the next. The app will monitor your dashboard activity, and send your automated emails whenever the trigger conditions are met.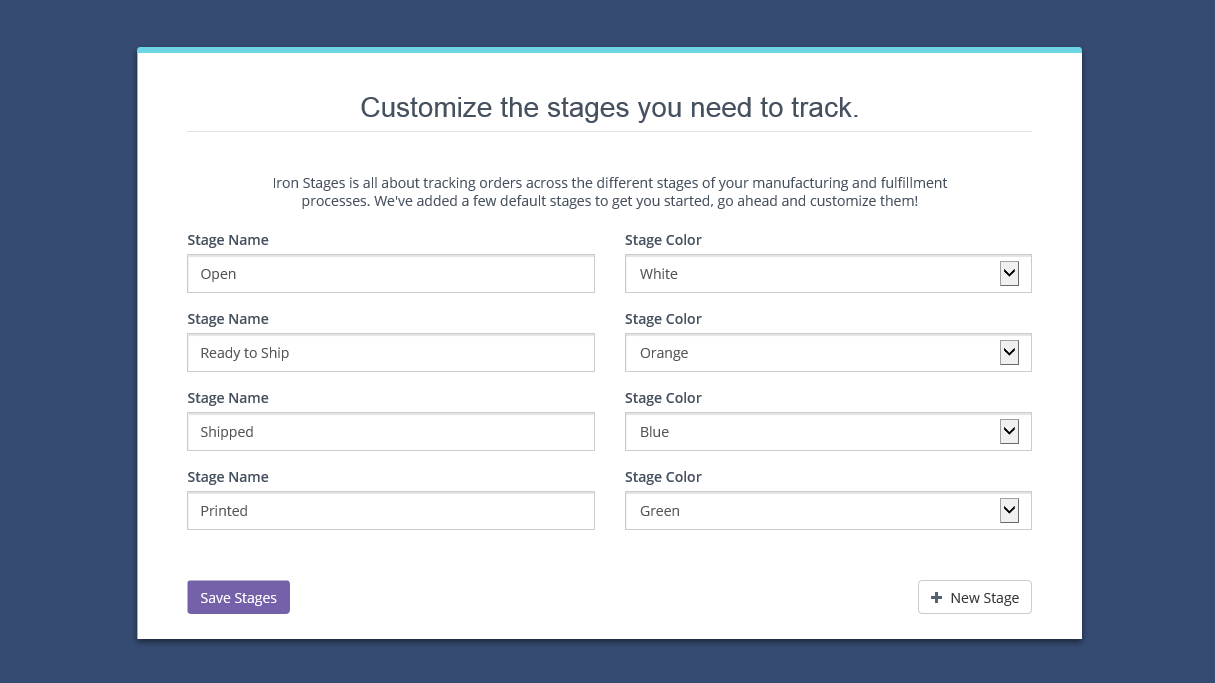 What we can offer.
Now you know a bit about how Stages works, you should be able to see what makes the app so special. This is what our application can offer you:
Clarity: A good seller needs to foster trust between themselves and the consumer. Stages offers unprecedented levels of clarity at each stage of the process, nurturing that bond between you and your customer base.
Customizability: You don't need an off-the-peg service, you need an app which reflects the nuance of your business. Create your own customized checkpoints for your ordering process, and create automated emails that will keep your customers in the loop.
Efficiency: A good order management tool should streamline and simplify the process; it should boost efficiency, not hinder it. Stages offers full integration with your Shopify store, and fully automated notifications that keep customers informed about the status of their order.
This app's #1 goal is to make order management easy, while reflecting your company's unique brand identity. Don't get left behind in the market; use Stages to get on top of your orders.