Sorting orders using the Stage App
Learn how to sort and find orders in the Stages App
Sorting Orders in the Stages App
Overview
The Stages app provides a sorting system that allows users to organize their orders based on various criteria such as date, status, priority, and custom tags. This feature is designed to help users streamline their workflows and manage their orders more efficiently.
Accessing the Sorting Feature
Navigate to the Orders Section: Upon logging into the Stages app, click on the "Orders" tab on the left-hand navigation menu to access your list of orders.
Open the Sorting Menu: At the top of the orders list, locate and click on the "Sort" button. This will open a dropdown menu displaying the available sorting options.
Date/Due Date
You can select to sort by date ascending
And alternatively date descending
Due date ascending

And due date descending

Name

You can select to sort by name ascending A-Z

And by descending Z-A

Order ID

You can select to sort by order ID ascending

And order ID descending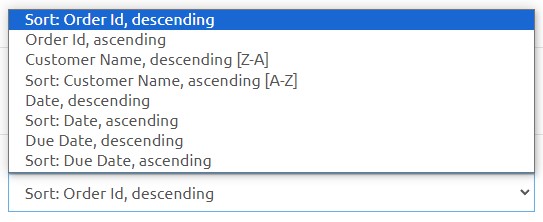 Conclusion
Effectively managing and sorting orders is crucial to maintaining a productive workflow within the Stages app. By utilizing the various sorting options and configurations, you can customize your view to align with your personal or organizational needs. Whether prioritizing by date, due date, name, or order ID, these tools are designed to enhance your efficiency and control over order management.